We went to the park today and had a picnic and the kids had a great time playing on the playground! Andrew loves the "wee" also known as a slide and the whole time on the swing he giggled! Matthew loved climbing up the slides and also a little "mountain"climbing toy.. Maegan loved everything, especially the slide! they all had a great time!! Also the two pictures that are similar of rae and i are 5 years difference. One was taken today and one was taken 5 years ago!! im sure you can figure it out. well have a good day!!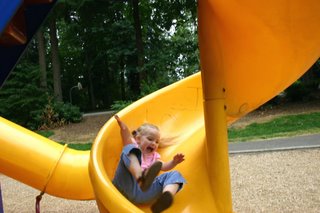 Matthew has something to say to his Mommy and Daddy:
M iss you
A re you having fun?
T he park was nice
T he fireworks were loud
H awaii pictures are nice
E verything is wonderful
W e love you
That is a poem matthew wrote